Are you looking for a monthly kid-friendly space article that you can publish in a newspaper or a newsletter? If so, become a...
NASA Space Place Article Partner!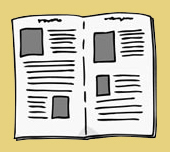 As a NASA Space Place Article Partner, you will receive a monthly space or Earth science article geared toward kids that you can put in your own organization's newsletter, newspaper, or website. You can expect the article on the 12th of each month.
We ask that you include our NASA Space Place logo at the top of the article, and we require that you send us a hard copy of (or a link to) how you used the article each month. If you use our article in your publication at least 50 percent of the time, we will send you a free certificate!
To subscribe to our list as an Article Partner, send an email to SpacePlaceConnect@jpl.nasa.gov and let us know that you're interested.
If your organization hosts an event for kids or the community, you can also request free materials via our Materials Request Form.