Sign Your Name to a Poem That Will Fly Aboard Europa Clipper!
Europa is one of Jupiter's moons. Scientists believe that Europa is interesting because it may have twice as much water as Earth. However, it is so cold on Europa that water on the surface of this moon is frozen.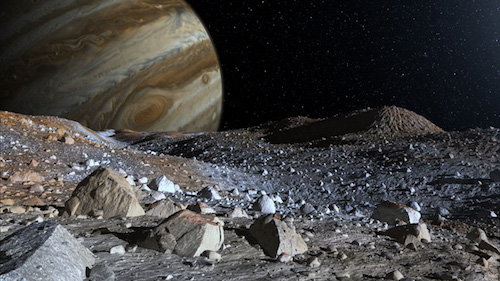 There are a few places in our solar system where scientists think it might be possible to find life beyond Earth. Jupiter's moon Europa is one of those places.
Though Europa's surface is frozen, it wouldn't make for the best ice skating experience because there are so many ridges, cracks, and wonky textures on its surface.
In this activity, you can explore Europa's textures, at home!
What you need: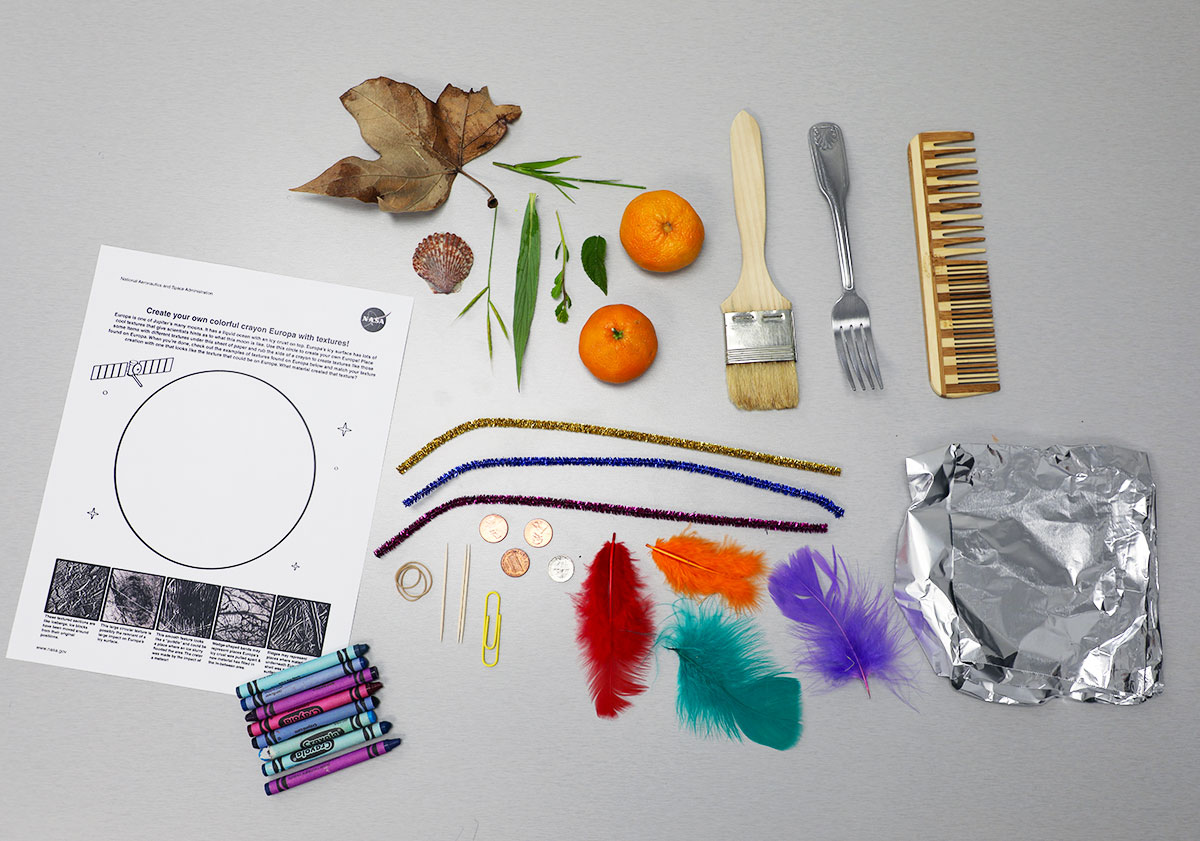 A print-out of the Europa coloring activity page. Click here to download the activity page!
Crayons
Any flat textured items you find at home! Some examples include pipe cleaners, a comb, blades of grass, crinkled paper or aluminum foil, rocks, string, keys, leaves, paperclips, and more! Let your imagination run wild.
What to do:
Grab any of the textured items you collected and place it under the coloring page. The item should lay directly underneath the circle outline on the coloring page, so that when you start coloring, you color inside of the circle.






Take the paper off of a crayon. The crayon can be any color you like.






Rub the side of the crayon – not the tip – on top of the coloring page, which should be on top of a textured item of your choice.






As you rub the crayon on the page, you should notice the pattern, or texture, of the item you placed underneath the page begin to appear on the page! Experiment with how hard you press on the crayon. The harder you press, the more visible and distinct the texture will be.






Repeat this process by placing different textured items under the activity page and rubbing with different crayon colors.



When you feel like you are done coloring in the circle, you should have a funky-looking Europa with all sorts of textures and colors!






Use the guide at the bottom of the activity page to compare the textures actually found on Europa to those you colored on your Europa. The textures on Europa, shown in the boxes below the circle on your page and below, were created through different processes on the moon. These processes are described underneath each picture. Match your texture creations with one that looks like the texture that could be on Europa. What material created that texture on your page?
| Photo of Europa's Textured Surface | How That Texture Was Formed |
| --- | --- |
| | These textured sections are like icebergs; ice blocks have been moved around from their original positions. |
| | This large circular texture is possibly the remnant of a large impact on Europa's icy surface. |
| | This smooth feature looks like a "puddle" and could be a place where an ice slurry flooded the area. The crater was made by the impact of a meteor! |
| | Wedge-shaped bands may represent places Europa's icy crust was pulled apart & new material has filled in the in-between area. |
| | Ridges may represent places where material underneath Europa's icy shell was pushed up to the surface through cracks. |
Related Resources